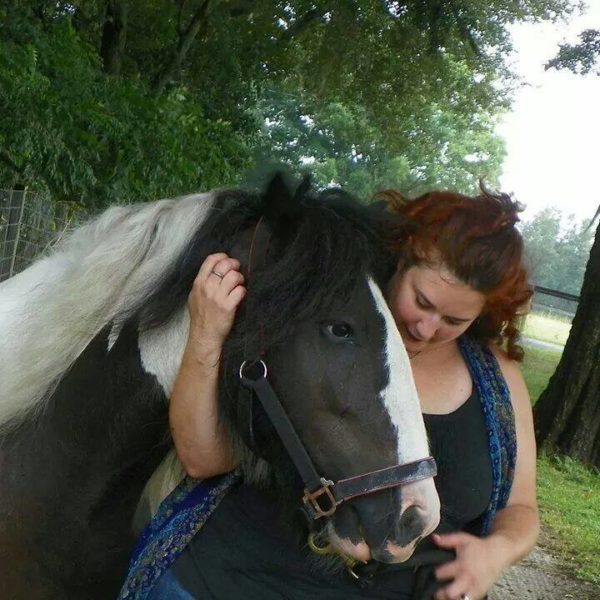 Dr. Jenenne "Kiese" Valentino-Bottaro, PhD
Jenenne R. Valentino-Bottaro holds a PhD in Human Services with a Specialization in Social and Community Services. Dr. Valentino-Bottaro is the founder/creator of Vai'datha Expressive Arts and Animal Interventions. Jenenne is a therapist, artist-in-residence, college instructor, and animal advocate. Jenenne is a certified play therapist is Level I trained in Dr. Rise Vanfleet's Animal Assisted Play Therapy™. Jenenne has written and facilitated programs for residential facilities, behavioral health programs, and assisted living facilities in topics ranging from arts-in-medicine integration, culture, trauma, and gender sensitive treatment approaches. Jenenne specializes in human-animal welfare programs, trainings, and building community resiliency. Jenenne teaches at Saint Leo University in Human Services and served Lead Faculty for Human Services. Jenenne designs curriculum and teaches psychology courses in Remington College.
Jenenne's sacred arts approach focuses on movement and rhythm that is grounded in the very essence of ancestral wisdom, community, and the embodiment of the knowledge of the elders and ancestors.
Through her folkloric approach, her expressive arts and animal interventions programs will provide you with an opportunity explore your inner rhythm, relationship building and bonding. Jenenne is Dance for PD trained, and developed Sacred Tribal© to continue the story of the ancestors through an all embracing blend of Indian-Style Temple Dance, Congolese-Style, and interpretive dance from images found on sacred art in cave paintings, frescoes and clay pots.
As the story teller and keeper of cultures, Jenenne was gifted the name "Kiese" by her Drum and Dance Masters. In their honor, she added "Kiese" to her name, which means bringer of joy and light.
Jenenne brings her dance, drum, and animal assisted enrichment programs into memory care units. schools, and mental health facilities. Jenenne also facilitates retreats that focus on the sacred paths through community, connection, and expression.